RGE founder Sukanto Tanoto has, for almost 50 years, run his businesses in line with the 4Cs philosophy: creating good for the Community, Country, Climate, and Company.  This same philosophy has guided all the companies managed by RGE, including APRIL, Sateri, and Pacific Oil and Gas; the philosophy has become so ingrained within the culture of the companies that it formed the basis for the RGE and its business groups' sustainability framework.
The philosophy first conceived by Sukanto Tanoto is not just some catchy slogan to be paid lip service to either. Such has been the ubiquity and relevance of the 4Cs to the employees of RGE that the philosophy has even become a mindset, a life style, a conscious choice to live their lives by. It is a claim one boy in Kerinci, Riau can surely attest to.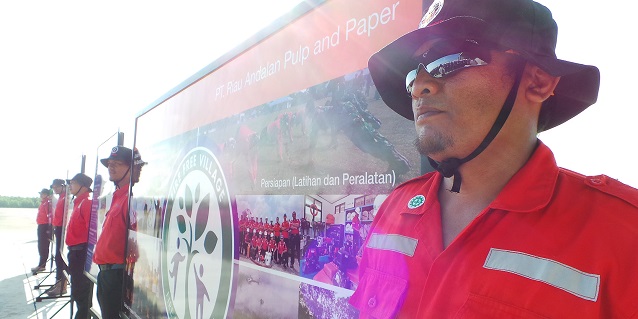 27 year old Boy Sastra Perman has spent the past seven years of his life fighting fires for PT RAPP, the Indonesian subsidiary of Sukanto Tanoto-led APRIL. Risking his life, being called up for work at the most irregular hours, spending days and nights away from home being, not to mention the constant heat and choking smoke – difficult for the layman to imagine surely, yet it is nothing more than an ordinary day for Boy. It is a difficult job – tedious, painful, and often thankless – yet it is one which Boy believes is a noble one that must be done.
If anything, the job is one that leaves memories for a lifetime. A story Boy is unlikely to forget anytime soon, was how he almost missed his wedding. With two days to go before his wedding, Boy was still hard at work, fighting fires back in 2015 –the peak of Indonesia's forest fire problems. It was a memory he would never forget, as he recounted how his colleagues who took over from him eventually turned up to his wedding –albeit dressed in the red uniform, and smelling of a mix between sweat and smoke. Yet it is a job he doesn't regret. After all, every boy dreamt of being a superhero once.